The way we look can announce a whole lot about us.
Naturally, this is because a large amount of our personality goes into our decision making when it comes to how we present ourselves. So it makes total sense that the faces — and eyebrows — we show to the world can speak volumes about us.
Nature intended for our eyebrows to protect the eyes, our windows to the soul, but they also help people recognize us and in the meantime give hints to our personality. We all come with a facial blue print—it's a map of who we are—so any changes we make to our face, including our eyebrows, can also create an internal change that can be a positive thing that breaks us out of old patterns and gets us going again, or hurt us if we're not aware of the effects a certain change could bring.
While many people just let their eyebrows grow, many more pluck, shape, and sculpt them to look exactly the way how they want them to look.
Electrolysis, the only permanent hair removal method, is a great option for those tired of tweezing, waxing and threading. Not only women but men also, shape and groom their eyebrows. Women can enhance their shape or change, sculpt and lift – the possibilities are endless. Sometimes one eyebrow can differ in form and shape from the other and it might not always be possible to shape them the same, on the contrary this irregularity can make you you. Men keep their natural shape with a cleaner look or get rid of their unibrow permanently. Teens and even pre-teens of both genders receive treatments to define or separate eyebrows.
Here, at Hairless NYC Clinic, many clients have chosen Electrolysis for their eyebrow shaping. As professionals we know how to proceed and get best results at minimum discomfort, and at the shortest possible time.
Perhaps the most compelling reason to choose Electrolysis is that it is permanent -meaning once all sessions are completed there is no further maintenance needed. It is accurate since it targets hair follicles individually, and it can be used on all skin types or color of hair. Electrolysis is also usually considered safer than laser which has the potential to damage the eyes when used in that area. It also has the advantage over a laser of being effective on all skin and hair colors.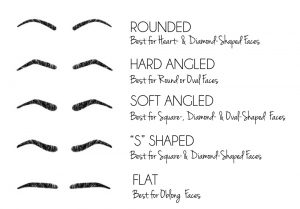 Our professional electrologists will help you get the best shape for your face taking in consideration and respecting your wishes at the same time. How high the arch, how thick, how wide apart etc are all determined by your face shape. Eyebrow shaping requires not only technical expertise but artistic ability as well.
Eyebrows are called expressions in the theatre and have been described as being comparable to a frame around a portrait in their relationship to the eyes. Correctly shaped eyebrows provide balance to other facial features. Life might be  challenging but we can put our best face – and eyebrows – forward; and sometimes a little goes a long way to make us look the way we feel.